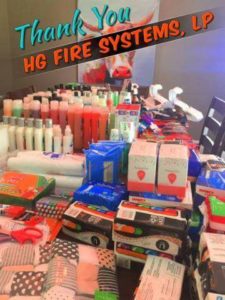 We are extremely humbled and thankful to Blake & Elyse Shipp along with everyone at HG Fire Systems, LP for their amazing donation of personal care items, clothing, and school supplies for the Stevens and Pruett Ranch Girls!
We are in the final stages of regulatory compliance in many areas and we inch closer each to day to completion of the State and Fire Department's safety requirements, donations like these are super special.
For a fire suppression system to operate and manage a fire properly, it must be correctly designed, installed and maintained by a licensed company like HG Fire Systems LP.
Fire system maintenance, like the suppression system at The JOY House, must be carried out by properly trained, qualified and experienced contractors. If you are located in the Greater Houston area and need fire protection assistance, give HG Fire Systems a call and let their experienced team of project managers, designers and sprinkler fitters assist you with your fire safety and suppression needs!