Facilities at Stevens & Pruett Ranch – The Chapel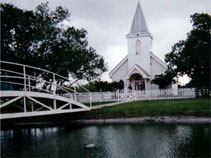 Fully restored post-Hurricane Ike, our pride and Joy, The Ranch Chapel, is almost ready for intimate weddings, vow renewals, small church services, engagement parties, meetings, and more.
This quaint little, clapboard side church can seat 75 – 90 depending on seat layout, and all seats have beautiful views of the green pastures as tall windows flank the walls. Over the alter, resides a beautiful stained glass window, with incredible colors. Pictures really don't do it justice – you have to see it on a sunny day, to fully appreciate it's beauty.
Brides can enjoy the acreage by having wedding portraits and photo shoots on the property; the bridge over the pond is gorgeous with the Chapel in the background. Acres upon acres of fencing throughout the property can be used for the creative sorts.
Grounds are available for photo-shoots with advanced scheduling. Hourly and daily photography rates are available.
The Ranch Chapel is perfect for:
Small to Medium sized Weddings (6o-75 ppl)
Special Church Services
Baptisms
Meetings
Engagement Parties
Vow Renewal Ceremonies
Boy Scout Ceremonies
Girl Scout Ceremonies
Community Meetings
Photoshoots
….possibilities are endless
For more information on Facility Rental, visit our RENTAL page.